The poems in Jan Schreiber's remarkable new collection enter
through the ear as well as the eye, but they quickly capture the
mind and the heart. Subtle and multi-layered, sensuous, witty,
and often deeply moving, they enlist the reader as an ally, one
able to share the poet's sense of wonder, his probing curiosity,
and his wry astonishment at the quirky eccentricities of
humankind.




Click to purchase on Amazon >>>>>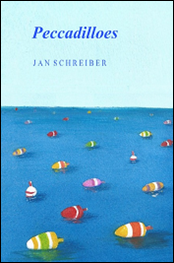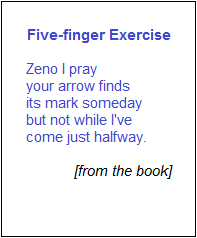 As King Duncan learned the hard way (and more than
once!), "There's no art / To find the mind's construction
in the face," but then he'd never read Jan Schreiber.
Schreiber possesses an uncanny gift for seeing past "the
common guise many have learned to wear." Whether
it's the brave face put on by a dying friend, the shucking
of a small-time con man at the Pearly Gates, or the
thoughts of a figure in a stolen Vermeer, Schreiber goes
beyond the subterfuge of surfaces into the very life of
things. He is as incisive in lapidary "short takes" (à la
J. V. Cunningham) as he is in sinewy sonnets and mazy
pastorals of rural Maine, exposing by turns our pecca-
dilloes and our more serious infractions: "And to what
hell in time are they consigned – / the instants when
in rage or carelessness / someone destroyed a lovely,
hard-won thing?" Fortunately for us, the familiar
foibles catalogued in Jan Schreiber's glorious collec-
tion are amply atoned for, again and again, through
his poet's grace.
– David Yezzi


Jan Schreiber's new book of poems is full of people: Scoop (too drunk to fight), Buddy's daughter (due in May), the Reverend Charles Colby, the storekeeper's wife, the senior psychoanalyst (who dances like a dervish), the aging lover, the man of the world (eying a balcony covered with vines), the artist Moses Soyer, the stone mason, the wasp-girl, Vermeer's singer (the light is in her eyes), the grifter at Heaven's Gate, the poet's wife (a painter), Adam, Zeno, Death, Calypso, a bunch of teenagers on the back of a yellow pickup truck. His Human Comedy is much like Balzac's for its wealth of characters, humor, and bitter wisdom, though since Schreiber is a poet the narratives are washed and submerged, like islands, by image and melody – the glinting surface of the verse – that still reflects them clearly when the tide is high.

– Emily Grosholz